Beetroot Health Benefits
Beetroot is one of the most amazing antioxidant rich vegetable food you can consume. The beetroot health benefits is packed full of vitamin and minerals. It derives from the taproot part of the beet plant Beta Vulgaris.
The deep purple coloured beetroot is rich in vitamins such as Niacin(B3), Pantothenic Acid (5), Vitamin B6, Folate(B9) and Vitamin C. It is full of minerals such as Calcium, Iron, magnesium, Manganese, Phosphorus, Potassium, Sodium and Zinc according data from USDA.
Recent research called "The Potential Benefits of Red Beetroot Supplementation in Health and Disease" co-authored by Tom Clifford of the Department of Sport, Exercise and Rehabilitation, Faculty of Health and Life Sciences, Northumberland Building, Northumbria University, Newcastle upon Tyne, NE1 8ST, UK has shown that beetroot juice may reduce blood pressure and improve blood flow around the body. It also contains about 20 times more dietary nitrates than other vegetables.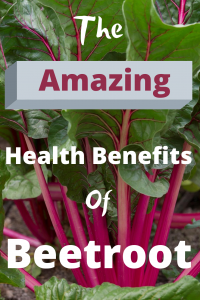 History of Beetroot

Here is a brief history of Beetroot by Wikipedia:
Beets were domesticated in the ancient Middle East, primarily for their greens, and were grown by the Ancient Egyptians, Greeks and Romans. By the Roman era, it is thought that they were cultivated for their roots as well. From the Middle Ages, beetroot was used as a treatment for a variety of conditions, especially illnesses relating to digestion and the blood. Bartolomeo Platina recommended taking beetroot with garlic to nullify the effects of "garlic-breath".
The Benefits of Beetroot Juice
Alison Hornby, a dietitian and BDA spokesperson, says: "Beetroot and beetroot juice, along with green leafy vegetables, cabbage and celery, are very useful as part of a balanced diet as their nitrate content may help to reduce blood pressure.
"Getting active, reducing the amount of salt in your diet and maintaining a healthy weight are also key strategies for getting your blood pressure under control."
The health benefits of Beetroot are numerous including boosting stamina, fighting inflammation, cleaning the blood systems and lowering blood pressure.
Related article:
3 Secrets And Tips For Anti Aging
10 Best Hair Care Tips To Help You Look Good
Beetroot Juice
Beetroot contains alpha-lipoic acid which is an antioxidant that has been shown to be very effective at lowering glucose levels and increasing insulin sensitivity in diabetic patients.
Beetroot can be juiced to make a wonderful healthy drink for your daily natural juice drink intake. You can drink it as a juice on its own or as a mixer with other fruits as well as vegetables.
Research has shown that beet juice can be useful as a cancer preventative due to the benefit of betacyanin in the juice.
Jonny Bowden, PhD, CNS said in 2016 that "In my book there is one root vegetable that wins the prize for underappreciated superfood of the year. Enter the humble beet." He also said "Beets: Use THIS to Lower Blood Sugar and Strengthen Your Heart"
Beetroot is one of the original superfoods and can add enhanced flavour to your natural drinks as well as greater concentration of Vitamin A, C and K for your health benefit.
Beetroot can be roasted, boiled, sautéed or eaten raw. The green leafy part of the root can also be eaten raw or steamed.
Beets are also used in foods such as tomato paste, sauces, desserts, jams and some cereals as food colouring and flavouring.
Be wary of over-consumption of the beetroot juice as it may cause you urine and stool to take up a distinctly reddish purple colour.
Historically beetroot has been used to treat a variety of illnesses including digestion and blood disorders. Beetroot juice supplement has also been shown to improve oxygenation of the muscle during exercise. Some athletes swear by the benefits of the superfood.
So, start from today if you are not already consuming beetroot to reap the amazing beetroot health benefit from this wonderful vegetable.